5 DAYS LIVE POWER BI WORKSHOP!
Learn how to create dashboards with Power BI! 

Now add an extraordinary skill in your profile and be the work champ!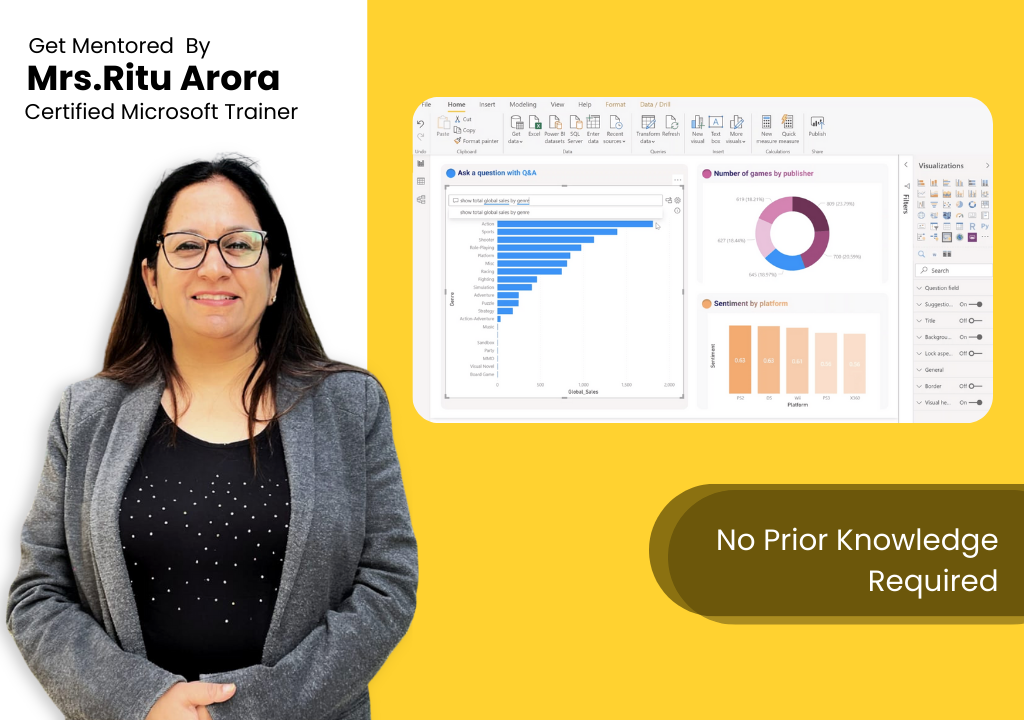 5 DAYS LIVE POWER BI WORKSHOP!​
Looking for Microsoft Excel training to improve your skills and productivity? Ritu Arora's Basic and Advanced online Excel courses can quickly improve anyone's productivity level — whether you're a complete novice or already an Excel expert — all in a matter of hours!
By the end of the course, you'll be equipped with the real-world Excel knowledge needed to tackle everything from reports and charts to complex data analysis. Not to mention, earn Excel certification from Ritu Arora.
By the end of this beginner-friendly course, you'll be able to
Navigate the Excel interface.
Boost Excel productivity with formulas and shortcuts.
Prepare data for analysis with organized and filtered data.
Master math, statistical, logic, and text functions to manipulate data.
Sort and filter data to quickly find important information.
Use charts and graphs to present clear insights.
Create and format Pivot Tables to summarize large data sets.
Discover the latest features, like XLOOKUP, UNIQUE, FILTER.
Use data validation to restrict data entry and reduce input errors.
Create live dashboard using Excel data.
Over 50000 people have learned practical, actionable Excel skills from our live online classes to help them work smarter every single day.
Ready to add value, save time, and boost your productivity? Start mastering Excel today!
2. Online Classroom[Preferred]
SAT ( 4 Weeks)
08:00 PM – 11:00 PM IST
  (GMT +5:30)
SAT ( 4 Weeks)
08:00 PM – 11:00 PM IST
  (GMT +5:30)
SAT ( 4 Weeks)
08:00 PM – 11:00 PM IST
  (GMT +5:30)
Flexible Date & Time
INR 1200
Per Hour
Microsoft  Excel Certification
We are excited to announce that our comprehensive Training Course is now available to anyone who is interested in gaining a deeper understanding of fundamental concepts in their field of study. The course is designed to provide participants with an in-depth knowledge of key principles and techniques that are essential to their professional growth and success.Upon completion of the Training Course, we are pleased to offer a certificate of achievement to participants.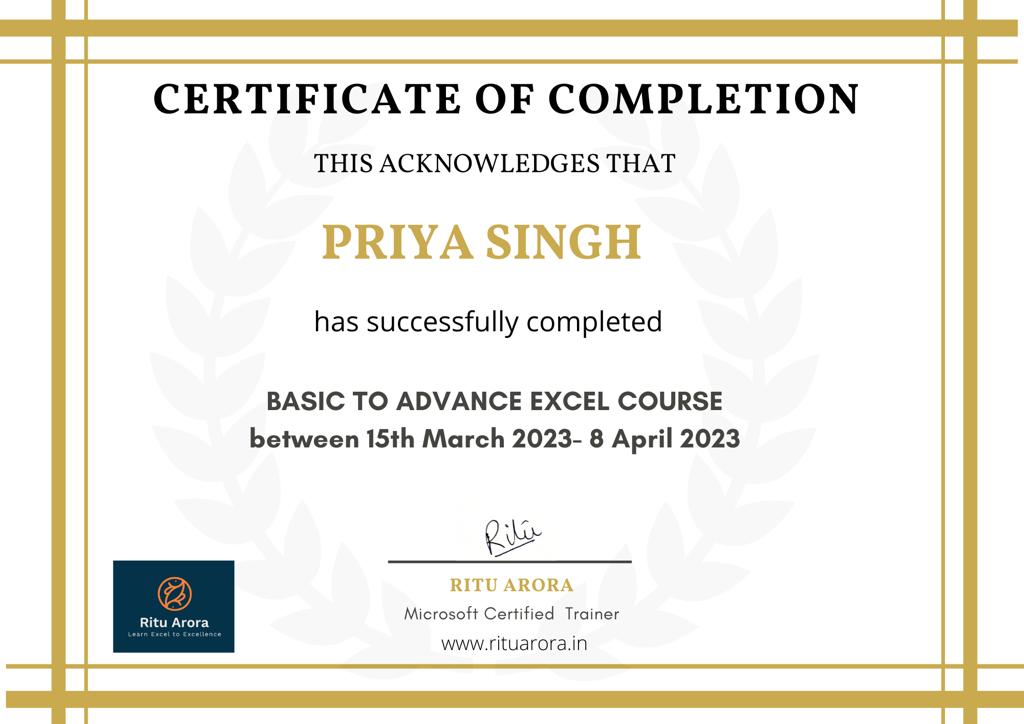 FAQs for Basic to Advance Excel